Data Recovery
Technical Expertise Second to None
If you are facing a data loss emergency, you've definitely come to the right place!
Since 1993, MindPride has defined the standard of excellence in the data recovery industry by consistently providing the finest and most innovative data recovery services available - anywhere, at any price!
MindPride's technical expertise include hard disk recovery, server recovery, and tape recovery ranging from a single hard drive in a notebook PC to multi-drive RAID servers or even tape libraries. Our capabilities include all operating systems (Windows, Mac, Novell or Unix/Linux etc) and all architectures (SAN, NAS, DAS, etc).
We quickly resolve all combinations of logical and physical problems such as hard disk crash, controller failure, re-initialized MAC RAID, inaccessible Unix system, SQL database corruption, DLT Tape overwrite or EOD error, file delete, O/S re-install, read errors, DDS tape recovery, upgrade failure, restore failure, flashcard re-format and much more.
DATA RECOVERY



We retrieve "lost" data from all Hard Drives, high-end Tape media & Optical Disk cartridges, even problem CD-R/W & DVD discs; in short: we'll extract any data that can no longer be accessed by your system.
Data-striped storage arrays or RAID subsystems present a technical challenge to many service providers — consult MindPride with confidence. We have long-standing experience and success with all types of these high performance devices.


DISASTER RECOVERY
Natural or human-caused, disasters happen. Can your business afford to be at a standstill when your computer systems go down? With MindPride, you can have a certified computer professional on-site, within an hour... guaranteed.
To protect against outages, MindPride, can design a comprehensive disaster recovery plan to protect your assets, your reputation… even your existence. You'll be able to mitigate disaster risks to your computer systems, assure the recovery and availability of your mission-critical systems, and preserve valuable information assets with minimal interruption to customer service.
Careful planning, preparation and testing are essential to successfully respond to and recover from a disaster. MindPride identifies your risks — along with their business impact — then develops, tests and implements a plan for responding at the level your business requires should the unthinkable happen.
FORENSIC DISCOVERY SERVICES



We have gained substantial experience in computer evidence recovery; we've participated in a wide range of forensic discovery issues for both advocate and referee assignments. MindPride brings the latest technology to bear on electronic discovery processes while protecting authentication of evidential findings from disk, tape, or any removable media used for computer data. And, we document every step we take.
You can be assured the most conscientious, careful attention to detail. Whether the requirement pertains to litigation calling for on-site evidence retrieval or investigation, an expert witness in the courtroom, analysis of damage to computer hardware or deletion of information from data storage equipment, MindPride has the expertise you need for your computer forensic discovery initiative.

MEDIA CONVERSION/ MEDIA DUPLICATION
Whether you need to convert data to an advanced or alternative format or duplicate your critical storage media, the media and data conversion specialists at MindPride can help.
PROGRAM / DATA TRANSFERS
What is involved with transferring files from one computer to another or one platform to another (e.g. Mac to PC or PC to Mac)?
One of the biggest concerns when moving to a new computer is how to get all your old information from the old to the new. Not to worry. Not only can we get all your data transferred and programs programs reinstalled to your new computer, we will take special care to have your new computer look and work like your old one, just faster and better.
In a perfect world, transferring files from one computer platform to another would be one simple step. Unfortunately, the two most common platforms, Macintosh and PC, use operating systems (Macs use Mac OS, and PCs use Windows) that recognize different file formats or extensions.
MindPride consultants provide a complete file transfer service, which includes installing and configuring operating systems and locating, converting, and transferring files from one platform to another.
If you are on a budget, it is most efficient to bring your computer to MindPride for file transfers. When your computer is transferring files, MindPride consultants can work on other projects as well, which saves you extensive labor charges. Another way to save money is to consider performing some of the simpler, but often monotonous, steps yourself:
Organize your files
It is a good idea to organize your files when converting to a new platform or to another computer using the same platform (e.g., Mac Performa to a Mac G4). Place the files you would like converted in folders on your desktop or hard drive (e.g., Word document files in a "Word to transfer" folder, spreadsheets in an "Excel to transfer" folder, etc.). The consultant will not have to search for data files and will know exactly which files to transfer.
Install appropriate application software
When converting to a new platform or to another computer using the same platform, you must have the appropriate application software CDs (e.g. Microsoft Word for Windows, Adobe PhotoShop for Windows, etc.) available for the consultant to install and configure on your computer.
Change your file format extensions
When converting to a new platform, be aware that file format extensions differ (the file extension is found at the end of a file name), and often need to be converted. For example, a Microsoft Word document does not require (and may not have) an extension on a Mac platform, but does on a PC. So file name conversions are often necessary. Certain symbols used in the file name also differ between platforms.
If your hard drive is bad, would you like MindPride to back up your data?
For an hourly fee, MindPride provides data recovery services. If your hard drive seems to be failing, MindPride can often save your data. MindPride consultants can transfer the data to a CD, to the MindPride server or to a new hard drive at your request.
Would you like MindPride to install a new hard drive?
MindPride can order and install a new hard drive and transfer your data to your new hard drive. Remember, this is not your software, but your data only. Would you like MindPride to also reinstall your software on your new hard drive? Provide MindPride consultants with your software CDs and registration information (e.g. Microsoft Office), and MindPride consultants will install your software, as well as your data, for you. MindPride services are billed at an hourly rate.
Reinstalling operating systems, transferring data files and data recovery are just some of the services that MindPride consultants provide.
MindPride services are available as a carry-in (bring the computer equipment to the MindPrideconsultants) or on-site option, whichever is more convenient for you.
Follow Our Recovery Tips
Safe Solutions for Common Problems
Warning: If your hard drive emits unusual noises (clicking, grinding or metal scraping), turn it off immediately! This symptom typically indicates a head crash that can destroy your data. Hard drives spin with extreme speed - from 7,200 to 15,000 revolutions per minute - therefore extensive damage can occur in a short period of time. Contact MindPride immediately, as this situation demands professional recovery in a Cleanroom environment.
Tips on Using Disk Utility Programs
While most disk utilities provide excellent preventative maintenance by fixing minor problems, they can render data unrecoverable in the event of extreme corruption. Follow these tips to help ensure your drive and data safety.
1. Always Save an "Undo" File
Save an "undo" file, a record of the changes the utility has made to your drive, in the event it does not correct your problem. By sending this file along with your drive to us, you help ensure recovery of your data.
Do NOT use a utility program if it does not allow you to save an "undo" file of the repairs it makes.
2. Strange Noises? Avoid Utilities!
If your drive sounds or acts erratically in any way, DO NOT USE UTILITY SOFTWARE.
Damaging sounds include clicking, buzzing or scraping.
Back up your data immediately (if you are already booted up).
Shut down the computer to avoid further damage to the drive and its data.
Send your drive to us for professional recovery in our Cleanroom environment.
3. Windows NT/2000, UNIX and NetWare Require Professional Expertise
Because of the broad range of circumstances and potential hazards when using utility software with these complex operating systems, we recommend contacting us for professional recovery advice.
Never assume data is unrecoverable. We've successfully recovered data from thousands of drives with extreme physical damage when others have said data recovery was not possible. Take these simple steps and let our 15 years of experience handle the rest.
Step 1: Call a MindPride Consultant (206)429-3050
Our Consultants understand the business and personal implications associated with a traumatic data loss. Call us to receive immediate assistance with:
Step 2: Prevent Further Data Loss
Avoid attempting recovery yourself on severely traumatized drives (i.e., turning your computer off and on, using over-the-counter diagnostic tools), as doing so may cause further damage or permanent data loss.
Identify your situation from the hyperlinks below and follow the important precautions in handling your damaged drive.
Head Crash/ Unusual Noises
Power Outage/ Surge
Water Damage
Fire
Virus
Impact Trauma
Step 3: Follow Our Recovery Tips
If none of the cases above describe your situation, go to our Recovery Tips for step-by-step instructions on how to handle minor problems.
Restoring Recovered Files
Thank you for using MindPride Data Recovery!
Please take a moment to thoroughly read the instructions prior to restoring your recovered data.
Preparation
Before attempting to restore recovered data (regardless of the Operating System), your system should meet the following criteria:
System is bootable

Operating system installed

Enough free space on the system to hold the data to be restored.

Software applications installed
Important: If your software applications have already been installed, these files should not be restored from the CD. Only files not currently on the system should be restored. You may cause file corruption by overwriting system and/or application files.
Cost of Data Loss
Exactly how much does computer downtime and data loss cost businesses?
The statistics are staggering.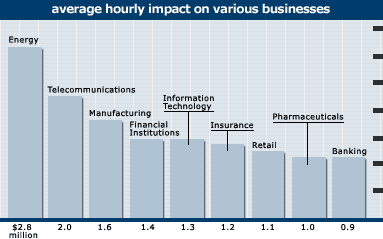 Industry Sector
Revenue/Hour
Energy
$2.8 million
Telecommunications
$2.0 million
Manufacturing
$1.6 million
Financial Institutions
$1.4 million
Information Technology
$1.3 million
Insurance
$1.2 million
Retail
$1.1 million
Pharmaceuticals
$1.0 million
Banking
$996,000
Source: IT Performance Engineering & Measurement Strategies: Quantifying Performance Loss, Meta Group, October 2000.
Data loss can be very costly not only in dollars and downtime but also in productivity. At MindPride we've uncovered even more eye-opening facts about data loss and the life of your business.
93% of companies that lost their data center for 10 days or more due to a disaster filed for bankruptcy within one year of the disaster. 50% of businesses that found themselves without data management for this same time period filed for bankruptcy immediately. (Source: National Archives & Records Administration in Washington.)
File corruption and data loss are becoming much more common, although loss of productivity continues to be the major cost associated with a virus disaster. (Source: 7th Annual ICSA Lab's Virus Prevalence Survey, March 2002.)
The average company spends between $100,000 and $1,000,000 in total ramifications per year for desktop-oriented disasters (both hard and soft costs.) (Source: 7th Annual ICSA Lab's Virus Prevalence Survey, March 2002.)
In addition to being more prevalent, computer viruses were more costly, more destructive, and caused more real damage to data and systems than in the past. (Source: 7th Annual ICSA Lab's Virus Prevalence Survey, March 2002.)
Of those companies participating in the 2001 Cost of Downtime Survey: 46% said each hour of downtime would cost their companies up to $50k, 28% said each hour would cost between $51K and $250K, 18% said each hour would cost between $251K and $1 million, 8% said it would cost their companies more than $1million per hour. (Source: 2001 Cost of Downtime Survey Results, 2001.)
At what point is the survival of your company at risk? 40% said 72 hours, 21% said 48 hours, 15% said 24 hours, 8% said 8 hours, 9% said 4 hours, 3% said 1 hour, 4% said within the hour. (Source: 2001 Cost of Downtime Survey Results, 2001.)
SERVICE OPTIONS



We're flexible and stand ready to provide service according to your business needs:
Disk Drive Manufacturers: